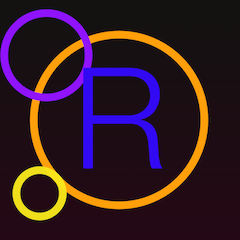 Myriads of list-based, task tracking, reminder and mem
orandum
apps exist on the App Store. The majority performing the same mundane action — tracking tasks quite effectively, but with only a modicum of flair.
Let's face it, some of us are more visually inclined. We prefer particles over listicles. How about an app that positions a cluster of
O
rbs representing reminders …at
Random
angles …a fixed, date-determined distance from the center of the display? Wouldn't that be cool? We thought so too.
Presenting
O Random
.
O Random creates a delightful visual record of your reminders and upcoming events. Your reminders are "alive" and arranged temporally on the screen.
- Record audio and attach photos to reminders
- Use touch targeting to inspect reminder bubbles
- Pinch to change zoom scale
- Long press to display date bands
- Organize and filter display by two attributes: category and group
- Create recurring reminders
- Assign notifications
- Assign emojis and colors to categories
- Complete or delete reminders